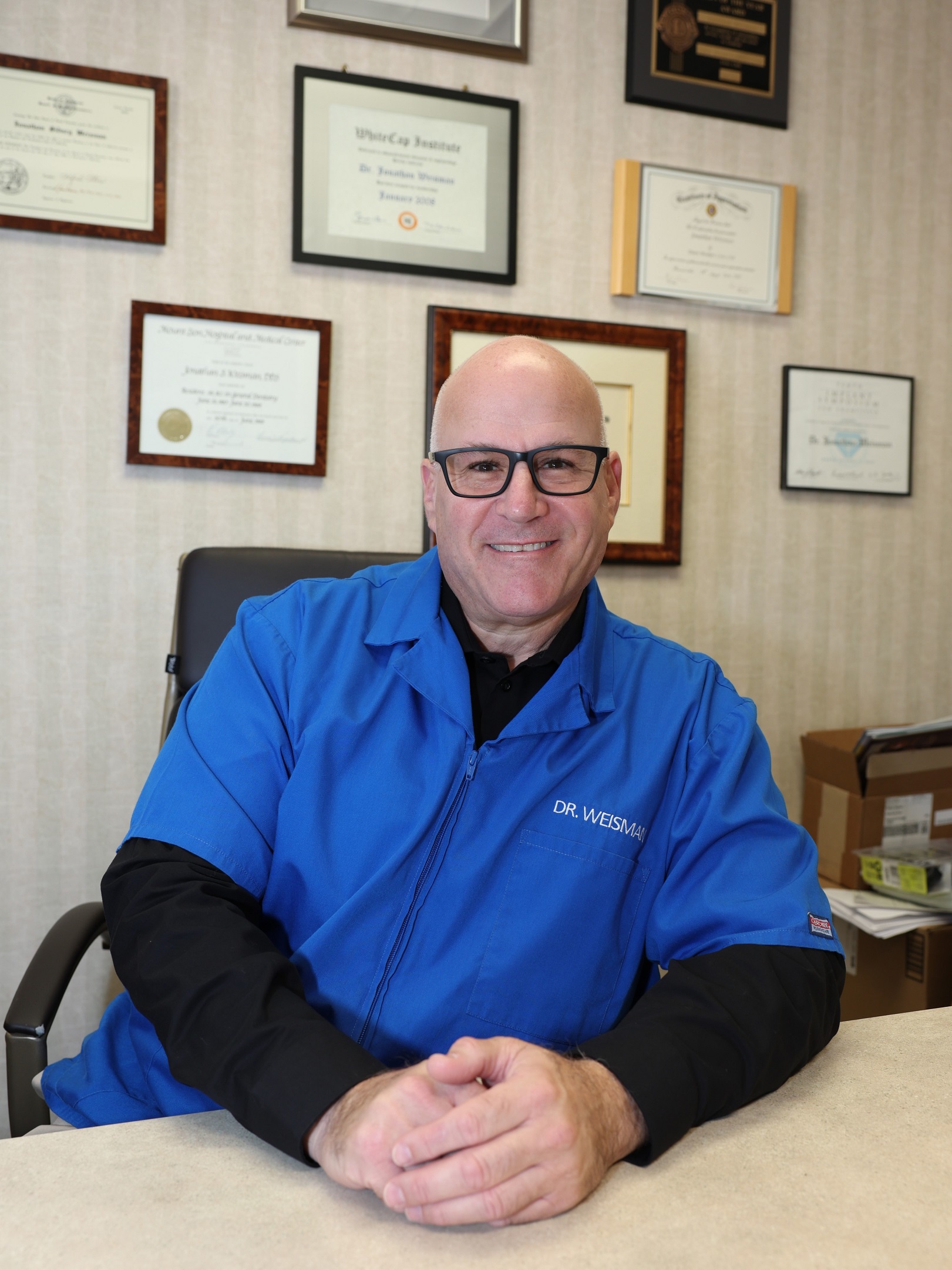 About Dr. Weisman
I was born in Philadelphia, Pa. but lived in many different areas because my father was career military. One of four children, there was never a dull moment growing up and my siblings and I still enjoy getting together every year for a family reunion. After living on Army bases in Virginia and Germany, my family moved to Florida then settled in Southern Illinois and later moved to Chicago.
I attended the University of Illinois Champagne/Urbana from 1979-1983 where I earned a degree in Biology and concurrently competed as a member of the U of I Big 10 Fencing team. I then attended dental school at the University of Illinois in Chicago from 1983-1987
After dental school, I moved to California to work at Mt. Zion Hospital as a dental resident. I was fortunate to be selected for a second year at Mt. Zion as the chief resident where my duties included mentoring the first year residents. In 1989 I began a private practice in San Rafael and for a few years continued to teach at UCSF in their Advanced Education in General Dentistry program to help hone the skills of new graduates. While at UCSF my specialties were hospital dentistry, operating room dentistry and geriatric dentistry. I worked in private practices in San Rafael, Sunnyvale and San Carlos before settling in Fremont.
I began practicing in Fremont in 2004 and soon after, merged two existing practices to have a strong and stable dental practice. I believe in open communication and educating patients, enabling you the patient, to make the best decision for your treatment. Part of this communication involves having high tech software, digital cameras, digital x-rays and other educational aids to allow for better understanding of treatment.
A unique aspect of my practice is that I have a significant number of patients from the Deaf Community. To varying degrees some of my staff and I have taken classes at the Ohlone College Deaf Studies program. My staff and I have had exposure into Deaf Culture, and can communicate in American Sign Language ("ASL") on a basic level. We are hoping that with time and more practice we will continue to improve.
I enjoy biking, hiking and camping with my family. I enjoy spending time with friends and relatives. Being a father is my greatest joys. I am a dog lover, and Lily, a Maltese poodle, is my favorite. I am environmentally conscious; I prefer carrying my groceries with my teeth rather than in a plastic bag. So, we use only compostable bags in our dental office.